Maine Divorce Attorney
Speak With a Compassionate Divorce Attorney in Maine:

(888) 446-7668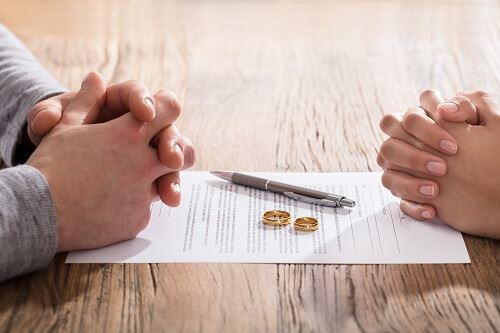 The decision to end a marriage is not an easy one to make. By the time divorce becomes an option, a marriage is usually irreversibly broken or one of the spouses has provided grounds for divorce.
If you are currently facing divorce, are considering divorce, or have been served with divorce papers, do not wait another moment. Our skilled and experienced Maine divorce lawyers can help guide your steps to the most favorable and peaceful resolution possible.
Why Clients Love Working With the Divorce Lawyer at Moncure & Barnicle
Decades of experience in various areas of practice
A full-service firm offering comprehensive legal advocacy
Receive direct, one-on-one attention from our attorney
Recognizes for skillful, steadfast, and compassionate counsel
Named among the top firms in the local community
Confidential consultations to discuss your case with us
Maine Divorce Laws
Is Maine a No Fault Divorce State?
Maine is a "mixed" state when it comes to grounds for divorce because it recognizes both no-fault divorce and fault grounds for divorce. A no-fault divorce is an option for spouses who believe that they have irreconcilable differences in their marriage.
What Are the Grounds for Fault-Based Divorce in Maine?
Fault-based divorce can be filed for any of the following grounds listed under MRS 19-A § 902:
Adultery
Impotence
Extreme cruelty
Utter desertion for three consecutive years
Gross and confirmed habits of alcoholism or drug addiction
Gross and wanton or cruel nonsupport
Cruel and abusive treatment
Irreconcilable marital differences
Incapacitation as determined by the court
Is Maine a Community Property State?
Maine is not a community property state. Maine has implemented the theory of "equitable distribution," which means that instead of dividing property equally, a judge will attempt to divide the property and assets as fairly as possible.
Dividing property and assets can be difficult, especially when ending a marriage. Determining what property is and isn't marital property is the first step. Most assets or property gained during a marriage falls into this category; however, there are a few instances where one spouse retains full ownership.
What Are the Different Types of Spousal Support in Maine?
In Maine, alimony is referred to as spousal support. After or during a divorce, a judge may order one spouse to pay spousal support to the other, if the other spouse is in financial need.
The main goal in awarding spousal support is to ensure that a reasonable standard of living is maintained between the two parties and that both spouses have the ability within a reasonable amount of time to become self-supporting.
Maine has several types of spousal support:
General support
Transitional support
Reimbursement support
And nominal support
General Support
This type of spousal support is awarded to help maintain a reasonable standard of living for spouses with less income potential. This type of support is usually not awarded for marriages that lasted less than 10 years.
And if the marriage lasted less than 20 years, spousal support is not awarded for more than half the length of the marriage. For example, if you were married for a period of 18 years, you may be entitled to receive spousal support for a period of nine years but no longer than that.
Transitional Support
May be awarded if one spouse is planning to go back to work, to cover education or vocational training, if the spouse is relocating after the divorce, or to cover other needs associated with the divorce. The purpose of awarding this type of spousal support is to help the party which is making significant lifestyle changes in this transition period.
Reimbursement Support
This type of support differs from the other types of spousal support since it does not seek to cover the other spouse's needs in the future, but instead is meant to pay the other spouse back for benefits received during the marriage, for example, contributions to the other parties education.
Nominal Support
The judge may order nominal support to preserve the authority to grant future spousal support.
How Is Alimony Determined in Maine?
If there is no agreement between the parties, the judge will consider the following factors for each of the spouses:
The marriage's length
Their ability to pay
Their age
Their employment potential and employment history
Their income potential and income history
Their education and training
Their health insurance benefits and provisions for retirement
Their health and if they have any disabilities
Their contributions as a homemaker
Their standard of living during the marriage
The spouse's contributions the other party's education or earning/income potential
The ability of the spouse seeking support to become self-supporting
Potential misconduct, which might have resulted in diminution of income or marital property
The tax consequences of the marital property division
Tax consequences of a potential alimony award
The judge may take into consideration other relevant factors as well
Providing Excellent Counsel & Representation for the Following Family Law Cases
Our Maine divorce attorneys are dedicated to the best interests of each client and can go the extra mile to help you achieve your goals. In fact, Moncure & Barnicle has handled countless divorce cases over the years and have more than 170 years of collective experience.
Our Maine divorce lawyers also handle other related family law matters such as:
Property Division
Spousal Support
No matter what your case involves, we provide personalized attention and representation from start to finish. When you retain a Maine divorce lawyer from Moncure & Barnicle, you can be sure of receiving outstanding service.
Real Testimonials From Former Clients
Our Maine divorce attorney has taken on immeasurable divorce cases and fought aggressively on behalf of our clients. We want to make sure that the concerns of our clients are met and will do all that we can to reach the end result that they need and want.
Some of our happy clients have left reviews about their experience with us. Here are some excerpts:
"I cannot express my thankfulness enough & I don't think they will ever know how much they have touched my life."
"I am truly grateful to attorney Jack Barnicle and paralegal Amy Herrick for leading me through divorce proceedings in a manner that was both professional and caring."
"He was sincere in his commitment to my case, and more importantly he was honest with me in regards to what I could expect and what rights I had."
Contact Our Maine Divorce Attorney Today
The sooner you take part in our free case evaluation, the sooner you can learn exactly how a divorce lawyer from Moncure & Barnicle can handle your case. We represent clients throughout the state of Maine. When you choose to retain our firm, you can have confidence in your attorney's ability to represent you through a divorce and to win the best possible results.