John F. ("Jack") Barnicle, Esq.
Why I Do This: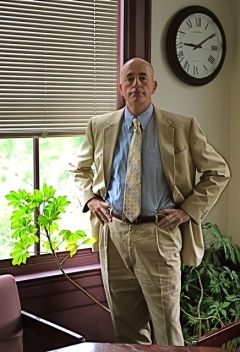 I practice law because I want to help people. I receive a great sense of satisfaction out of helping clients, whether it is in the context of a onetime transaction or a continuing client relationship.
I have the technical expertise and experience to help but much more importantly, I believe, is that I care about what happens to my client. The difference between me and the way some other lawyers practice is that I think critically and strategize as a matter of routine, whether I am at the office or not.
In that sense, I do take my job home with me but not in a bad way. By strategizing outside of the workday, I often find new or different approaches that might ultimately lead to a successful resolution.
I am not a 9-5 lawyer because that is not necessarily when my clients need me. It is often the case that in litigation or even in the context of business transactions, clients are not (because they are in the middle of the fight) able to objectively evaluate their own best interests. I am able to do that without inserting myself personally as is too often the case. Often when an attorney becomes "personal" with the other side or other attorney, it literally takes one's eye off the proverbial "ball".
While it is an advantage to have an opposing party in a state in which they literally see "red", I work hard so that my client does not end up in that state (which can lead to excess attorney's fees and unsatisfactory results). At the end of the day, it is a difficult job because of that high degree of care. Ultimately, my client's success is my success.
Areas of Practice
* Family Law, Divorce, Custody, Protection Actions, Adoptions, Parental Rights & Responsibilities
I have had substantial experience in many types of family cases, from the first meeting with the client through trial and sometimes appeal to our State's highest Court. This area of my practice includes many of the Courts in the State of Maine including the District Courts located in: Bangor; Waterville; Skowhegan; Augusta; Rockland; Wiscasset; West Bath; Rumford; Lewiston; South Paris; Portland and Biddeford. On some occasions, our cases have made new law in the State.
Our family cases might be difficult ones involving children and their best interest. I teach a parenting course to members of the public who have children and who are going through separation, divorce or parental rights actions.
Our practice in these areas also includes complicated issues involving spousal support, pensions and business interests. This area is certainly one in which having an attorney who cares personally is critical as is having an attorney who will, while allowing the other side to see "red", remain above the fray, well able to direct the critical actions and decision making which are crucial to a successful result. In the family area, I have regularly presented at Continuing Legal Education seminars and have published articles, nationally, in the area as well.
* Personal Injury/Plaintiff's Representation: We are not "TV" attorneys and the bulk of our cases in this area are by referral from past clients or other attorneys. I have resolved cases including those involving wrongful death, serious personal injury and legal malpractice, with a range of individual resolutions from $25,000.00 to $350,000.00 and $500,000.00.
Our Plaintiff's practice includes appearances before many Maine Superior Courts such as: Sagadahoc; Cumberland; Lincoln, Androscoggin and York Superior Courts. I have dealt with insurance adjusters from many types of companies. We have no hesitation to take on a case regardless of the insurer or defense counsel involved. In this area, there is no guaranteed attorney fee - we succeed financially only if you succeed financially.
* General Litigation, Real Estate Litigation, Business Representation, and Probate Litigation: I have handled a very diverse array of litigation cases to trial including heavily contested real estate partition cases, boundary disputes, title actions, commercial foreclosure defense cases and easement disputes. For over 20 years, we have provided outside counsel to one of the country's largest brewers, including representation in a variety of commercial issues, sometimes requiring decision by a court or arbitrator. I regularly represent individuals as well as small to medium size companies, including a variety of construction contractors.
I have an undergraduate business degree from the University of Massachusetts, Amherst and a continuing interest in the "business" world. I believe that business orientation benefits clients not only in business litigation/advice but also in family cases involving business interests.
Where I Practice:
I am fortunate to practice in our firm owned (and very dog friendly) office located on the banks of the Androscoggin River in Topsham. Because I live adjacent to Bowdoin College, about a mile away, I am never far from my office. Our office has multiple conference rooms for client meetings and is well located for easy access to many of our State's Courts.
When I am not being a lawyer:
In addition to spending time with family, I enjoy active sports including scuba diving, golf, hiking, running and martial arts. Because I also ride a motorcycle, I have special knowledge to bring to the benefit of motorcycle accident Plaintiffs. I have resolved motorcycle Plaintiff's cases in the past, including one resolution for approximately $300,000.00.
I have served in a number of civic and sports organizations including board membership and president of the local YMCA. I am a new volunteer to the Midcoast Hunger Prevention Program and look forward to doing whatever small thing I can do to help because that is what it is all about.
Reported Decisions:
Lorelei Corp. vs. County of Guadalupe, et al, 940 F.2d. 717 (1st Cir. 1991) – Civil Procedure, Jurisdiction
Fischer vs. Bar Harbor Banking & Trust Co., 857 F.2d. 4 (1st Cir. 1988) - Commercial litigation
Toussaint, et al vs. Town of Harpswell, et al, 1997 ME 189, 698 A.2d. 1063 – Zoning and Land Use
McAfee vs. Cole, et al, 637 A.2d. 463 (Me. 1994) – Civil Procedure, Statute of Limitations
Lee vs. Lee, 595 A.2d. 408 (Me. 1991) – Divorce
Cloutier vs. Lear, 1997 ME 35, 691 A.2d. 660 – Divorce
Ayotte vs. Ayotte, 2009 ME 20, 966 A.2d. 883 – Divorce